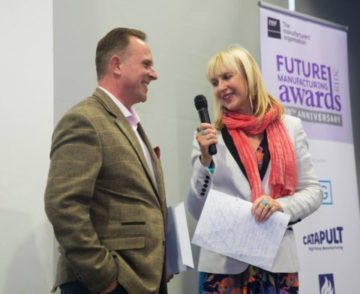 Paul Currie Scoops EEF Leadership Award
Paul Currie, Director of MPE Limited, has won a prestigious regional business award at this year's EEF Future Manufacturing Awards.
Paul won the Leadership Award, which celebrates the achievements of an outstanding individual who has made a significant contribution to their company, through their involvement in a company project, initiative or becoming integral to the day to day operations. Showing true commitment and dedication to their employer and the manufacturing industry.
Paul was up against stiff competition from individuals from a range of innovative businesses – small and large – from across the region. He was selected by a panel of judges drawn from business leaders, industry experts and academics after impressing them with his commitment and dedication to setting a tough challenge with tight deadlines to strategically shift the organisation's partnerships.
With the regional title now secured, Paul will now go on to find out if he has won the national title at an awards gala dinner in London in January next year.
Paul Currie, said: "Manufacturers work hard to ensure the success of their business, so I am honoured to have been recognised in this way. This award is not about individual effort though, it is for the hard working and talented team that I work with, without whom this achievement would not have been possible.
It's fantastic to be recognised by my peers in this way and I'm really looking forward to the national finals in January to see how I measure up against leaders from across the rest of the UK."
Richard Halstead, Membership Engagement Director for the North region at EEF said: "Strong and dynamic leadership pushes companies to take advantage of opportunities, such as those arising from the fourth industrial revolution, and towards greater efficiency and productivity for the entire business. This award is justly deserved and Paul should be applauded for his efforts. We wish him the best of luck for the national finals."
Paul's award was one of three awards MPE secured at the event.