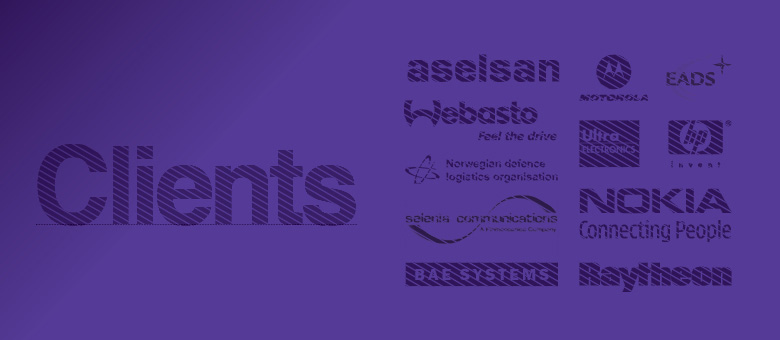 Client Testimonials

"TRaC is one the UK's largest product approvals companies. It operates over 30 EMC test chambers and uses EMI filters to attenuate the signals generated both outside and inside the test chambers to ensure the quietest of electromagnetic environments. TRaC specifies the use of MPE filters for the above purpose based on performance, reliability and quality."

S. Hayes, Director – EMC and Safety TRaC Global Ltd.

"Technical Sales Solutions (TSS),has worked with MPE for the over 10 years as a partner in the US market. In particular, our collective efforts have been focused on entering the U.S. Military market with a range HEMP protection filters. MPE's innovative white paper designs, reliability, technical expertise and professionalism have made it possible to start building a strong brand name.

Throughout this period, MPEhas always worked to the highest professional standards and has been responsive to all customers' needs. MPEhigh levels of technical assistance and product quality provide a level of confidence that the products will not only meet but exceed expectations. TSS has no hesitation in recommending MPEand their products for any future USEMPfiltering program needs."

Terence M.Murch, President – Technical Sales Solutions, LLC
"Eretec Inc. has provided the first EMP protection system in Korea fully compliant to MIL-STD-188-125-1/2. To fulfill the requirement of the initial project in Korea, Eretec utilised MPE HEMP filters to ensure the best quality and highest reliability. The decision to use MPE product was made after carefully reviewing various other manufacturers HEMP filter products.

Whilst conducting business with MPE for EMP protection system, we have found MPE to be a very responsive organisation with state-of-art technology and the highest quality.

Thanks to the best quality and technology of the MPE filters, Eretec has provided the greatest number of EMP filters within the Korean market and Eretec continues to receiving high levels of enquires.

In particular, the HEMP filter units mentioned successfully passed fully compliant to the MIL-STD-188-125 test when tested by an authorized test organisation in Korea. Based on such confidence, Eretec strongly recommend the use of MPE products to any future opportunity or client.

Eretec look forward to cooperating with MPE Limited in the future, to contribute to EMP/HEMP business in Korea dynamically and to provide the best solution to customers based on the various experience and technologies."

Jun-Sun Park, CEO – Eretec Inc.

"Created in 2009, Jaxon is recognised as one of the world's leading providers of EMI and EMP requirements definition, design, test, construction and service. As such, choice of partner companies is a critical business decision that helps define the quality and reliability of our services.  Jaxon have a long standing relationship with MPE , having tested and installed numerous filter assemblies within various DoD and commercial applications. We have always found the quality and reliability of the MPE filters to be of the highest standard and MPE's ability to perform custom design and manufacture work is a crucial asset when providing solutions that allow our services to remain low risk to the customer.  Their integrity and quality is without equal.  Jaxon is proud to rely on MPE as one of our trusted partners in the EMP and EMI community."

Scott White, Vice President – Jaxon Engineering & Maintenance Inc.
"MPE Limited has a well-established track record of supplying HDT Expeditionary Systems Inc. with feedthrough filters. HDT regularly orders these custom feedthroughs, in quantity, which have been supplied over the past five year period. 1,000's of units having now been provided to HDT.

MPE has adhered to the agreed to schedule for delivery every time, and MPE has also worked with HDT to either accelerate or increase the quantity of shipments when required and has worked with HDT's preferred shipping company to simplify goods inwards processes. MPE has been great about maintaining communication on a regular basis and the supply of these custom filter in quantity currently continues."

Tony Krogh, Manager III Program – HDT Global.

"MPE Limited supplied a large quantity of HEMP protection filters to EMProtec AG for installation into a high profile defence project in Switzerland. The HEMP filters ordered were supplied in multiple drops throughout the year, in line with a previously agreed schedule. MPE communicated effectively with EMProtec AG throughout the supply period and all filters were supplied on time and in full."

Dr. Armin Kaelin, CEO – EMProtec AG.

"For numerous years, MPE Limited have supplied a large quantity of EMI protection filters to Webasto Thermo & Comfort UK Ltd and other Webasto subsidiaries within the group, for installation in Military vehicle applications.

Throughout this period, the EMI protection filters have been supplied in multiple consignments to an agreed delivery schedule.

Where required MPE have always been flexible in working with Webasto to either accelerate or increase the supply due to fluctuations in demand.

MPE continue to be an approved global supplier of protection filters to the Webasto group."

Richard Stoakes, Operations Director – Webasto Thermo & Comfort UK Ltd.

"Since 2013 MPE Limited have been supplying a large quantity of custom high voltage DC feedthrough capacitors against a significant contract award to the Teledyne e2v Chelmsford UK site for installation within magnetron power supply equipment's. Throughout the period, these custom capacitors have been supplied in multiple drops, to an agreed monthly shipment schedule. Where required, MPE have also worked with Teledyne e2v to accelerate or increase product supply."

Guy Stubbs, Senior Procurement Manager – Teledyne e2v

"MPE have been a valued and trusted supplier to Moog for over 20 years. During this period, MPE have supplied over 25 different designs of its high-performance, high-reliability, feedthrough capacitors, for inclusion within Moog's range of mission critical motion-control systems.

MPE's products have consistently met Moog's high quality standard and have been delivered on time and in full."

Anthony Gleeson, Senior Procurement Specialist – Moog
"The choice of partner companies is a critical aspect for ATEC to ensure the highest quality and reliability of our services. ATEC has a strong relationship with MPE, installed numerous filter assemblies within various DOD/Commercial projects and have always found the quality and reliability of the MPE filters to be of the highest standards.

We have yet to have had a failure with any of their HEMP/RF filters. MPE's standards, custom design capability and manufacturing has allowed our services to remain low risk to our clients, providing systems that work first time and every time. MPE's reliability and quality are at the top of their industry and they have set the bar for other RF/HEMP filter companies to follow."

Stan Przewlocki, Senior Project Manager – ATEC Shielding