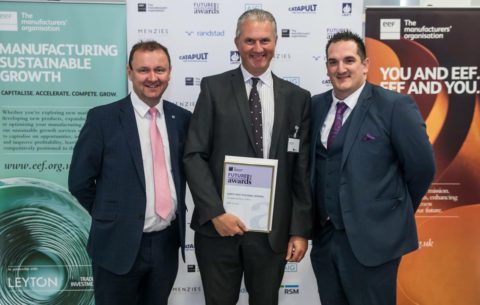 MPE Wins Prestigious EEF Award For Developing Employees
MPE Limited, has been crowned a regional manufacturing champion at this year's prestigious EEF Future Manufacturing Awards.
MPE walked away with the Developing Future Talent Award sponsored by Randstad Inhouse Services. This award recognises the manufacturer that has done the most to build skills, talent and develop their employees internally and/or promote engineering and manufacturing careers through activities within the community.
MPE was up against stiff competition from a range of innovative businesses – small and large – from across the region. It was selected by a panel of judges drawn from business leaders, industry experts and academics after impressing them with the way they adapted and modernised a long-running programme embedded in the culture of the organisation and allowed further expansion.
David Seabury, Managing Director at MPE, said: "This award is testament to our hard working and dedicated team, and we are delighted to have won. It puts us on the map as a modern and innovative company and goes some way to demonstrate the valuable contribution made by local manufacturers, like ourselves, to the employees in our region. We can't wait to share this news with all our staff, customers and suppliers.
Sally Cleary, Managing Director at Randstad Inhouse Services, says: "People are critical to the success of any business. As the UK manufacturing sector continues to make a global impact, there has never been a more important time to develop and foster the skills of employees to remain at the forefront of innovation, particularly as the industry faces a skills shortage. Doing so is essential for any company wishing to stay competitive. MPE Ltd fully deserves this award for the fantastic work that they do in nurturing their employee's skills. We wish them the best of luck in the national finals."
This award was one of three awards secured by MPE at the event.