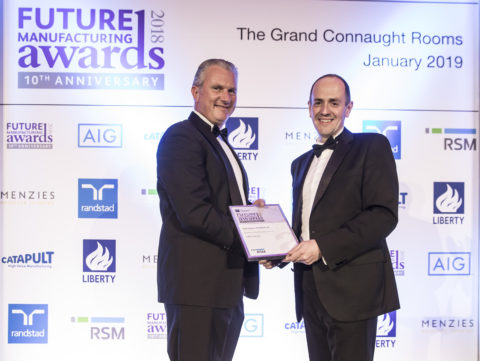 EEF Business Growth & Strategy Award
At the EEF's National gala dinner, MPE received a national award for its Business Growth & Strategy.
MPE took the runner up award in the Business Growth and Strategy category, sponsored by RSM. The business growth category looked at organisations that have taken huge steps at growing or entering new markets.
MPE Limited won the regional round of judging back in November and was up against stiff competition from a range of innovative businesses, both small and large. It was awarded the runner up title by a panel of judges drawn from business leaders, industry experts and academics after impressing them.
David Seabury, Director at MPE Ltd, says: "I was extremely pleased to win the regional award a few months ago and to again be recognised nationally as a forward thinking business is fantastic. Everyone within the business has bought into this idea and I wouldn't be here receiving the praise if that wasn't the case."
Mike Thornton, RSM Partner and National Head of Manufacturing said: "The UK boasts a strong manufacturing sector which is at the forefront of embracing developments in technology and infrastructure to ensure excellence across the industry. Despite uncertainty, manufacturers are resilient; and in unfavourable trading conditions the heart of the UK economy innovates, thrives, keeps calm and carries on. The EEF Future Manufacturing Awards offers the perfect opportunity to recognise and celebrate key achievements of individuals and businesses that are spearheading change across the UK.
Stephen Phipson, CEO at EEF, the manufacturers' organisation said: "Growing business is vital for all manufacturers. The sector is changing at a phenomenal pace so I encourage other manufacturers' to take a leaf out of MPE's book by taking positive steps in preparing for change and growing their business."