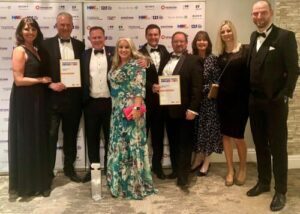 MPE in double award win at the MAKE UK manufacturing awards
MPE Limited has picked up two awards, being named the Make UK North West SME of the Year as well as picking up the Business Growth & Strategy Award.
The awards, sponsored by legal firm Bevan Brittan, and organised by Make UK, the manufacturers' organisation, were held in Preston to recognise the achievements of companies from across the North West region. MPE will now go on to compete against companies from across the UK at the National Finals which will be held in London in January.
June Smith, Region Director for Make UK in the North, said:
"These awards are a testament to the dynamic companies and individuals working within engineering and manufacturing. The sector remains at the heart of creating wealth in the North West and as we re-build our economy there will be a bright future for companies and individuals that make the most of their talent."