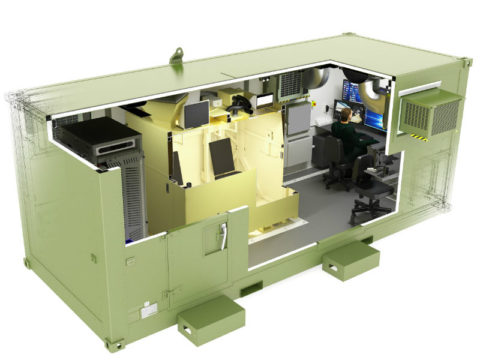 Filters for Ajax AFV Training Simulator
The new Ajax simulator shelters from Lockheed Martin incorporate custom filters from MPE. The simulators facilitate the training of turret crews on the British Army's Ajax, the new multi-role family of medium armoured fighting vehicles (AFVs) designed to be the medium weight core of the British Army's deployable Intelligence, Surveillance, Target Acquisition and Reconnaissance (ISTAR) capability.
The primary role of Ajax is to provide accurate and timely information to support decision making at all levels, providing commanders with a survivable and capable Ground Mounted Manned Reconnaissance (GMMR) platform, which gives them the flexibility to perform a range of roles across the spectrum of conflict.
There are three variants of the training simulator and integral to each simulator shelter variant are customised EMP filters designed and manufactured by MPE. Following extensive engagement and testing, MPE developed two 63A three-phase custom filters. These custom filters are designed to ensure EMP integrity and protection for each simulator shelter. To date MPE has manufactured and supplied 26 custom filters and follow-on units will be delivered over the next 12 months, giving the British Army the freedom to move them to wherever they are required, rather than having to bring troops to fixed locations. MPE will again be manufacturing filters throughout this period in support of the delivery phase.