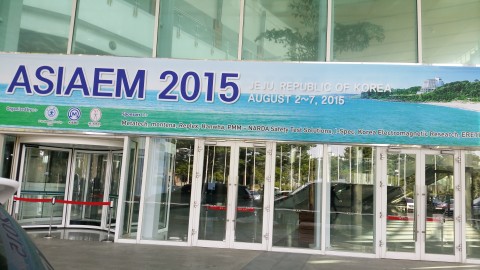 Eretec Inc. Features Strongly at ASIAEM 2015
ASIAEM took place from 2nd – 7th August in Jeju, Republic of Korea. This was the first ASIAEM event to be hosted after many successful EUROEM and AMEREM events previously held and Eretec Inc. again took the opportunity to showcase the MPE product range.
Eretec Inc. focused attention toward both the MPE HEMP filter range, which has been successfully sold and installed within the region for several years, along with showcasing the much newer MPE Pluggable TEMPEST filter range, which was last year expanded to include Korean variants.
Pictured below is Mr J.S. Park, President of Eretec Inc. and further information regard the MPE Pluggable TEMPEST range can be found by clicking on the link below:
https://www.mpe.co.uk/wp-content/uploads/2012/04/MPE-TEMPEST-Pluggable-Filters-Overview-October-2014.pdf