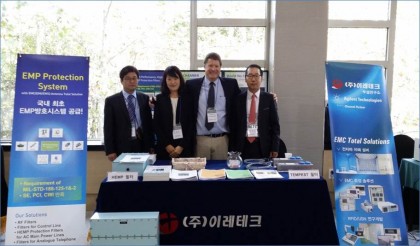 EMP Security Workshop 2014 – Seoul
Eretec Inc and MPE presented a selection of its filter offerings during the EMP Security Workshop which took place at the K-Hotel in Seoul. The products on show, included MPE's TEMPEST pluggable filter range which has now been extended with varaints suitable for the Korean market. 
Pictured above are members of the Eretec Inc team at the event, alongside Jim Youngman from Jaxon Maintenance and Testing who delivered a presentation regard the practical testing of equipment in accordance with Mil- Std-188-125.