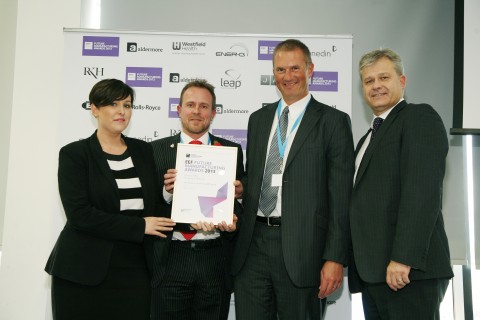 KNOWSLEY BUSINESS WINS EEF/WESTFIELD HEALTH BUSINESS GROWTH AWARD
MPE Limited, a manufacturer of electromagnetic filters and capacitor products for the automotive, defence, and telecoms industries, has won the business growth category in the EEF Future Manufacturing Awards 2013, in a ceremony held at Salford City Stadium.
The company will now go onto the national finals, which will be held in London in January 2014, where they will compete against other regional winners from across the UK.
The Knowsley-based firm won the Business Growth Award, sponsored by Westfield Health, which recognises manufacturers that have achieved dramatic business growth, for its expansion into South Korea and the US. Export sales within these territories grew by 16 per cent in the last 2 years.
The business was also runner-up in the Smart Product Award, sponsored by leap® from Pera Technology, for its development of the HEMP filter. This award recognises manufacturers that have designed and delivered a new product to market within the last three years, driving innovation in manufacturing.
Jill Davies, Chief Executive of Westfield Health, said: "Congratulations to MPE Limited, on winning the regional Business Growth Award. Not only have they managed to defy today's difficult economic climate, they have also delivered impressive growth."
Paul Tranter, chief executive of awards' sponsor Pera Technology, said: "Having worked with more than 500 businesses on new product development programmes I can safely say that MPE Limited is a fantastic example of a truly innovative company. Not only have they developed a revolutionary product with their EMI filters, but have undergone full commercialisation and are now profiting from significant market demand."
The annual awards are hosted by EEF, the manufacturers' organisation, and recognise excellence in enterprise, innovation, exports, environmental performance, skills development, health and safety and apprenticeships among UK manufacturers. The headline sponsor for the awards is Aldermore Bank. The national finals will take place on Thursday 30th January 2014 in London.