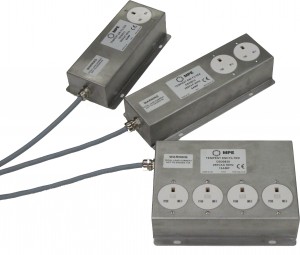 TEMPEST Pluggable Filters
Please enter your email address below to download.
MPE Limited's range of TEMPEST pluggable filters has been designed for use within TEMPEST applications, where protection compliant to SDIP-29 and equipment hardening to SDIP-27 is required . Utilising ultra reliable self healing capacitors, all units deliver optimum performance across the full frequency range and under all loading conditions. The filter range has been designed for use within unprotected power environments to ensure fitting and electrical installation is as quick and simple as possible.
DESCRIPTION
TEMPEST SP&N filters providing performance to support installation SDIP-29 protection
EMI and signal suppression supporting equipment compliance to SDIP-27
Insertion loss of 60dB from 100kHz to 1GHz
6A & 13A BS1363 3 pin plug & socket outlets
32A IEC 60309 'Commando' connector input & socket outlets
*alternatively terminated filters (e.g. Powercon, Schuko, IEC etc.) are available upon request
Designed to IT equipment safety standard EN60950-1
Fully 360⁰ screened 2 metre input cable to maintain red/black separation to filter
Low Smoke Zero Halogen (LSZH) rated cabling for use in sensitive areas
Self-healing metallised plastic film capacitors
Rugged magnetic stainless steel enclosure
6A and 13A designs of filter are downline tolerable to a personnel protection RCCD
CE compliant
Simple mechanical and electrical installation
RATINGS AND CHARACTERISTICS
Rated Voltage                                                             250V ac 50/60Hz
Test Voltage (line – earth)                                           2250V dc
Test Voltage (line – line)                                             1250V dc
Rated Current, IR at 50°C                                           6A, 13A, 32A
Earth Leakage Current:                                              6A & 16A less than 3.5mA, 32A less than 35mA
Maximum Temperature Rise on Full Load                 25˚C
Operating Temperature Range                                  -25˚C to 50˚C
Insertion Loss (50Ω, asymmetric)                              60dB from 100 kHz to 1GHz
Discharge Time                                                          Less than 1s to below 34V
Enclosure                                                                   Stainless steel
Finish                                                                          Natural, brushed
STANDARD RANGE – UK
| | | | | |
| --- | --- | --- | --- | --- |
| | Single Outlet | Dual Outlet | Quad Outlet | In-Line |
| 6A | DS30830 | DS30831 | | DS30832 |
| 13A | DS30833 | DS30834 | DS30835 | DS30836 |
| 32A | | DS30837 | DS30838 | DS30839 |
STANDARD RANGE – EU
| | | | | |
| --- | --- | --- | --- | --- |
| | Single Outlet | Dual Outlet | Quad Outlet | In-Line |
| 6A | DS30830EU | DS30831EU | | DS30832EU |
| 13A | DS30833EU | DS30834EU | DS30835EU | DS30836EU |
| 32A | | DS30837EU | DS30838EU | DS30839 |
STANDARD RANGE – Republic of Korea
| | | | | |
| --- | --- | --- | --- | --- |
| | Single Outlet | Dual Outlet | Quad Outlet | In-Line |
| 6A | DS30830ROK | DS30831ROK | | DS30832ROK |
| 13A | DS30833ROK | DS30834ROK | DS30835ROK | DS30836ROK |
| 32A | | DS30837ROK | DS30838ROK | DS30839 |
APPLICABLE NATO STOCK NUMBERS (NSN)
| | | |
| --- | --- | --- |
| MPE Part Code | Description | NSN |
| DS30830 | 6A Single UK Outlet | 5915-99-297-9931 |
| DS30831 | 6A Dual UKOutlet | 5915-99-615-9659 |
| DS30832 | 6A Inline | 5915-99-959-4364 |
| DS30833 | 13A Single UK Outlet | 5915-99-563-9370 |
| DS30834 | 13A Dual UK Outlet | 5915-99-693-2068 |
| DS30835 | 13A Quad UK Outlet | 5915-99-402-0482 |
| DS30836 | 13A Inline | 5915-99-845-4710 |
| DS30837 | 30A Dual UK Outlet | 5915-99-156-5218 |
| DS30838 | 30A Quad UK Outlet | 5915-99-882-1971 |
| DS30839 | 30A Inline | 5915-99-615-9661 |
| DS30830EU | 6A Single EU Outlet | 5915-99-353-1169 |
| DS30831EU | 6A Dual EU Outlet | 5915-99-156-5222 |
| DS30833EU | 13A Single EU Outlet | 5915-99-938-6086 |
| DS30834EU | 13A Dual EU Outlet | 5915-99-343-2290 |
| DS30835EU | 13A Quad EU Outlet | 5915-99-577-5337 |
| DS30837EU | 30A Dual EU Outlet | 5915-99-584-2808 |
| DS30838EU | 30A Quad EU Outlet | 5915-99-219-0951 |
Tempest Pluggable Filters Overview – March 2017
TEMPEST Pluggable Filter Range – UK Issue 3 – March 2020
TEMPEST Pluggable Filter Range – Euro Issue 3 – March 2020
TEMPEST Pluggable Filter Range Korea Ver2.3 October 2014