MIL-STD-188-125-1A Hemp Filter Range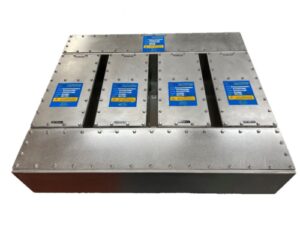 This range of filters is the latest in high-altitude electromagnetic protection (HEMP) for power lines. MPE have designed these filter circuits from the ground up in order to be compliant with the stringent E1 and E2 pulse current injection and shielding effectiveness requirements of the latest MIL-STD-188-125-1A protection standard. These high performance filters also protect equipment from the effects of intentional electromagnetic interference (IEMI).
All lines are individually filtered and feature inductive input to offer both good continuous wave electromagnetic compatibility (EMC) performance and superior transient handling performance even on supplies with low source impedance. All lines are fitted with high-energy transient suppressors.
Insertion Loss Performance
Asymmetric attenuation shown as measured in 50Ω system with or without load, in accordance with MIL-STD-220C, CISPR-17 and BS EN 55017.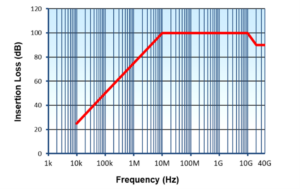 | Frequency | 10kHz | 100kHz | 1MHz | 10MHz | 100MHz | 1GHz |
| --- | --- | --- | --- | --- | --- | --- |
| Minimum Insertion Loss to help meet MIL-STD-188-125-1A Shielding Effectiveness | 20dB | 40dB | 60dB | 80dB | 80dB | 80dB |
| Typical Filter Insertion Loss | 25dB | 50dB | 75dB | 100dB | 100dB | 100dB |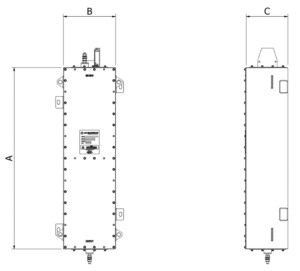 Rated Current (A)

Part Number

DC Resistance (mΩ)

Max. Earth Leakage* (A)

Residual Current [2.5kA]
(A)

Length A (mm)

Width B (mm)

Height C (mm)

Terminal Size

16
HPS16-1
35
1.8
3.5
430
180
165
M5
32
HPS32-1
10
1.8
5.3
430
180
165
M8
63
HPS63-1
5
1.8
4.6
680
270
215
M8
100
HPS100-1
2
6.3
5.9
680
270
215
M8
200
HPS200-1
1
12.5
6.2
940
270
215
M12
250
HPS250-1
0.5
15
5.6
1250
270
215
M16
400
HPS400-1
0.5
15
4.4
1250
270
215
M20
800
HPS800-1
0.1
26
4.4
1600
310
320
50x8 busbar
1200
HPS1200-1
0.1
26
4.4
1600
310
320
80x10 busbar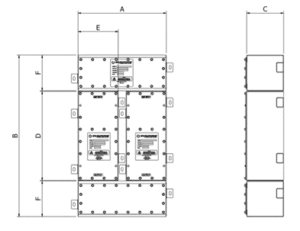 | Rated Current (A) | Part No. | A | B | C | D | E | F |
| --- | --- | --- | --- | --- | --- | --- | --- |
| 16 | HPS16-2 | 395 | 755 | 165 | 430 | 180 | 160 |
| 32 | HPS32-2 | 395 | 755 | 165 | 430 | 180 | 160 |
| 63 | HPS63-2 | 590 | 1125 | 215 | 680 | 270 | 220 |
| 100 | HPS100-2 | 590 | 1125 | 215 | 680 | 270 | 220 |
| 200 | HPS200-2 | 590 | 1385 | 215 | 940 | 270 | 220 |
| 250 | HPS250-2 | 590 | 1855 | 215 | 1250 | 270 | 300 |
| 400 | HPS400-2 | 590 | 1855 | 215 | 1250 | 270 | 300 |
| 800 | HPS800-2 | 680 | 2805 | 320 | 1600 | 310 | 600 |
| 1200 | HPS1200-2 | 680 | 2805 | 320 | 1600 | 310 | 600 |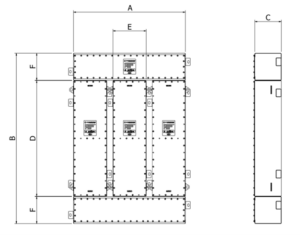 | Rated Current (A) | Part No. | A | B | C | D | E | F |
| --- | --- | --- | --- | --- | --- | --- | --- |
| 16 | HPS16-3 | 610 | 755 | 165 | 430 | 180 | 160 |
| 32 | HPS32-3 | 610 | 755 | 165 | 430 | 180 | 160 |
| 63 | HPS63-3 | 810 | 1125 | 215 | 680 | 270 | 220 |
| 100 | HPS100-3 | 810 | 1125 | 215 | 680 | 270 | 220 |
| 200 | HPS200-3 | 810 | 1385 | 215 | 940 | 270 | 220 |
| 250 | HPS250-3 | 810 | 1855 | 215 | 1250 | 270 | 300 |
| 400 | HPS400-3 | 810 | 1855 | 215 | 1250 | 270 | 300 |
| 800 | HPS800-3 | 1050 | 2805 | 320 | 1600 | 310 | 600 |
| 1200 | HPS1200-3 | 1050 | 2805 | 320 | 1600 | 310 | 600 |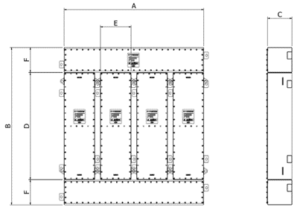 | Rated Current (A) | Part No. | A | B | C | D | E | F |
| --- | --- | --- | --- | --- | --- | --- | --- |
| 16 | HPS16-4 | 825 | 755 | 165 | 430 | 180 | 160 |
| 32 | HPS32-4 | 825 | 755 | 165 | 430 | 180 | 160 |
| 63 | HPS63-4 | 1230 | 1125 | 215 | 680 | 270 | 220 |
| 100 | HPS100-4 | 1230 | 1125 | 215 | 680 | 270 | 220 |
| 200 | HPS200-4 | 1230 | 1385 | 215 | 940 | 270 | 220 |
| 250 | HPS250-4 | 1230 | 1855 | 215 | 1250 | 270 | 300 |
| 400 | HPS400-4 | 1230 | 1855 | 215 | 1250 | 270 | 300 |
| 800 | HPS800-4 | 1420 | 2805 | 320 | 1600 | 310 | 600 |
| 1200 | HPS1200-4 | 1420 | 2805 | 320 | 1600 | 310 | 600 |
| Frequency | 10kHz | 100kHz | 1MHz | 10MHz | 100MHz | 1GHz |
| --- | --- | --- | --- | --- | --- | --- |
| Minimum Shielding Effectiveness to meet MIL-STD-188-125-1A | 20dB | 40dB | 60dB | 80dB | 80dB | 80dB |
| Typical Filter Shielding Effectiveness | 30dB | 50dB | 75dB | 100dB | 100dB | 100dB |
Fixed ground-based C4I military facilities
New build & upgrade facilities requiring HEMP protection to MIL-STD-188-125-1A
HPS16-2X277
Select the Filter Prefix HPS 

Select 2, 3 or 4 digits to reflect the current rating required

Select 1X, 2X 3X or 4X to reflect the number of lines required 

Select either 120, 250 or 277 for voltage rating required