Installation Details
Typical installation details are shown below.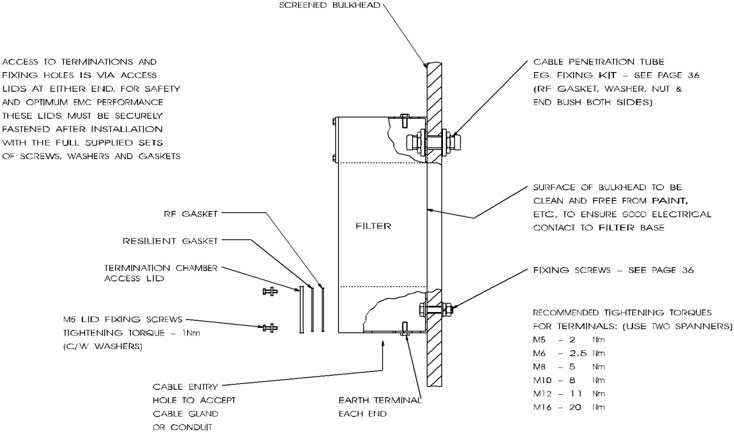 Cable Entry Options
The following standard cable entry hole positions are available on all rectangular filters with terminal compartments. The required cable entry is simply specified by adding the appropriate suffix to the filter part number as shown below. Other cable entries can be provided to special order.
Suffix "C" denotes the standard version and this type will be supplied in the event of no cable entry suffix being specified.
Note: Transient suppressors, where fitted, are always on the input end of the filter.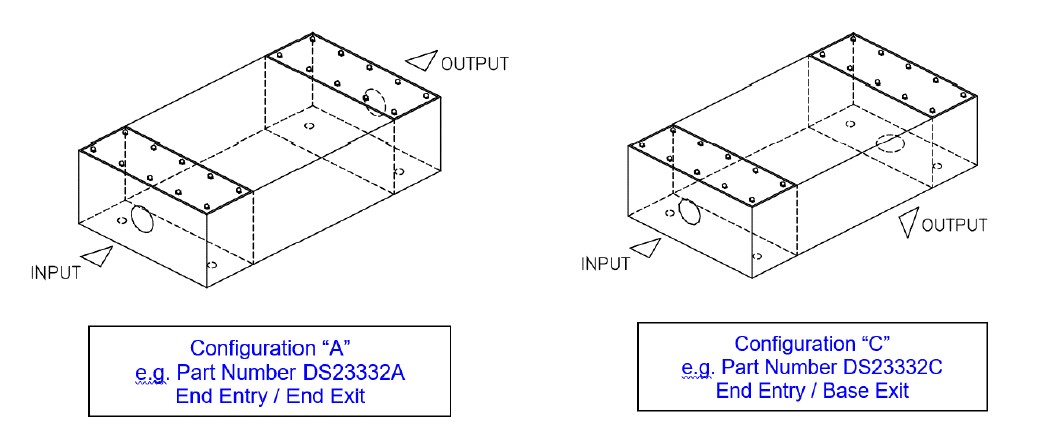 Outline Dimensions
Dimensions are tabulated below for rectangular style filters. They apply to the standard cable entry style. (i.e. suffix C on filter part number)
All dimensions are given in mm.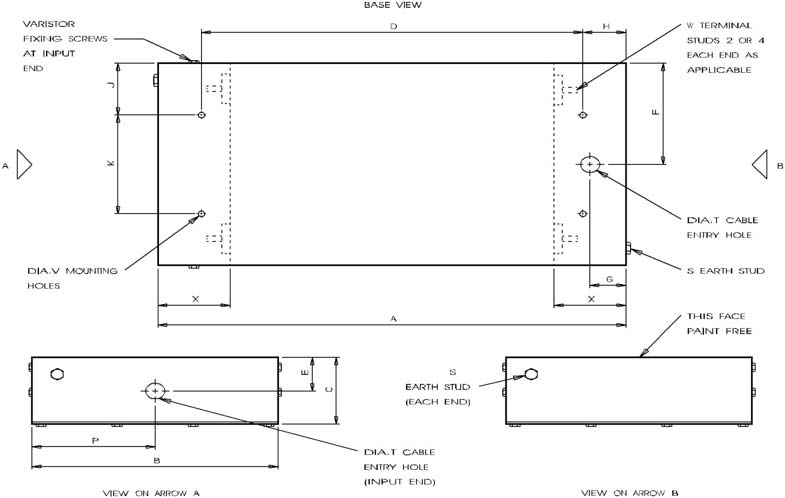 Normal configuration is for the neutral terminal to be adjacent to the earth terminal at the supply end of the filter.
Case Size
Table of Dimensions (mm)
A
B
C
D
E
F
G
H
J
K
P
S
T
V
W
X
a
310
175
90
212
45
88
35
49
24
127
88
M6
20
9
M5
65
b
310
350
90
212
45
175
35
49
67
216
175
M6
25
9
M5
65
c
425
175
90
327
45
88
45
49
24
127
88
M6
20
9
M5
85
d
425
350
90
327
45
175
45
49
67
216
175
M6
25
9
M5
85
e
550
205
95
487
48
103
45
31
61
83
103
M10
32
9
M8
85
f
550
205
105
487
48
103
45
31
61
83
103
M10
32
9
M8
85
g
550
410
95
487
48
205
45
31
62
286
205
M10
32
9
M8
85
h
550
410
110
487
48
205
45
31
62
286
205
M10
32
9
M8
110
i
640
205
120
537
48
103
65
52
61
83
103
M10
32
9
M8
110
j
660
410
135
537
68
205
75
62
62
286
205
M10
32
9
M8
120
k
725
175
90
627
45
88
45
49
24
127
88
M6
20
9
M5
85
l
725
205
105
621
48
103
55
52
61
83
103
M10
32
9
M8
110
m
725
410
110
663
48
205
55
31
62
286
205
M10
32
9
M8
110
n
760
205
120
656
48
103
55
52
61
83
103
M10
32
9
M8
110
p
780
410
135
656
68
205
60
62
62
286
205
M10
32
9
M8
120
q
820
350
120
710
60
175
55
55
110
130
175
M10
32
13
M8
110
r
970
350
120
860
60
175
55
55
110
130
175
M10
32
13
M8
110
s
1206
350
150
1130
75
175
60
38
110
130
175
M10
32
13
M8
120
t
1206
573
162
1130
81
286
75
38
110
353
286
M12
51
13
M12
135
u
660
475
135
537
68
238
60
62
110
255
238
M12
51
13
M12
120
v
660
575
150
537
75
288
60
62
110
355
288
M12
51
13
M12
120
w
590
410
95
527
48
205
45
31
62
286
205
M10
32
9
M8
85
x
820
475
150
680
75
238
70
70
110
255
238
M12
51
13
M12
140
y
820
575
150
680
75
288
70
70
110
355
288
M12
51
13
M12
140
z
1750
650
180
1260
90
325
75
245
150
350
325
M20
63
17
M20
300
aa
725
350
95
635
47
175
45
45
85
180
175
M6
20
9
M5
85
bb
725
350
95
635
47
175
45
45
85
180
175
M6
20
9
M5
85
cc
820
700
120
710
60
350
55
55
175
350
350
M10
32
13
M8
110
dd
970
700
150
860
75
350
55
55
175
350
350
M10
32
13
M8
110
ee
1206
700
162
1086
81
350
60
60
175
350
350
M10
32
17
M8
120
ff
1206
930
172
1070
85
465
68
68
230
470
465
M12
51
17
M12
135
gg
1750
1000
180
1260
90
500
75
245
250
500
500
M20
75
17
M20
300
hh
600
100
90
540
45
50
30
30
20
60
50
M6
20
9
M5
65
ii
700
130
110
640
55
65
30
30
30
70
65
M10
25
13
M8
65
jj
850
130
110
770
55
65
40
40
30
70
65
M10
25
13
M8
85
kk
1000
160
130
870
65
80
65
65
30
100
80
M10
32
13
M8
130
ll
1200
200
150
1070
75
100
65
65
40
120
100
M12
51
17
M12
130
mm
1250
475
150
760
75
238
75
245
110
255
238
M20
63
17
M20
300
nn
1250
575
150
760
75
288
75
245
110
355
288
M20
75
17
M20
300
pp
750
500
160
620
80
250
60
65
130
240
250
M12
40
13
M12
120
qq
1050
525
185
660
93
263
60
195
130
265
263
M20
51
13
M20
250
rr
750
700
170
620
85
350
60
65
150
400
350
M12
51
13
M12
120
ss
1700
700
170
1210
85
350
75
245
150
400
350
M20
75
17
M20
300