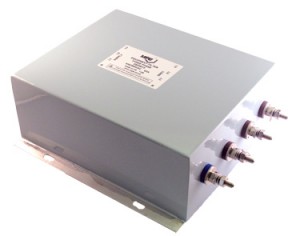 High Current Equipment Filters (three-phase)
Please enter your email address below to download.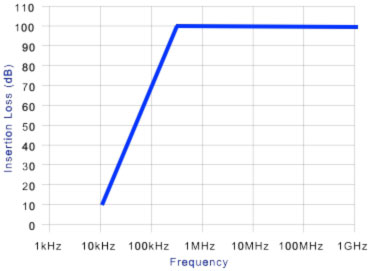 DESCRIPTION
This range of high current equipment filters is suitable for a wide variety of EMC applications where high performance filtering of three phase ac mains lines is required. The filters incorporate feedthrough capacitors to give excellent high frequency performance. They are designed for either bulkhead or chassis mounting for optimum flexibility although maximum performance will only be achieved when bulkhead mounted. Self-healing metallised plastic film capacitors are used for maximum reliability and safety. This range of filters is intended for use in a permanently earthed application and complies with the proof voltage requirements of EN133200.
RATINGS & CHARACTERISTICS
Rated Voltage
440/250V ac 50/60Hz
Test Voltage
(line – earth)
2250V dc
(line – line)
1250V dc
Rated Current, IR
As tabulated
Insertion Loss (50Ω, asymmetric)
100dB from 300kHz to 1GHz
Maximum Full Load Heat Dissipation
As tabulated
Maximum Temperature Rise at Full Load
25ºC
Ambient Temperature Range
-25ºC to +85ºC
Maximum Leakage Current (at 250V 50Hz)
125mA
Maximum Heat Dissipation
As Tabulated
Maximum Discharge Time to below 34V
2 Seconds
PRODUCT RANGE
Part Number
Current Rating IR (A) @50ºC*
Maximum Heat Dissipation (W)
Major Dimensions (mm)
Weight (g)
Length A
Width B
Depth C
DS29012
10
7
170
180
50
2
DS29013
16
11
170
180
50
2
DS29014
32
20
170
180
75
3
DS29015
63
40
220
180
85
5
DS29016
100
60
300
180
90
7
 *Current derating between 50ºC and 85ºCFor temperature, θ Iθ = IR
DIMENSIONS & MECHANICAL DETAILS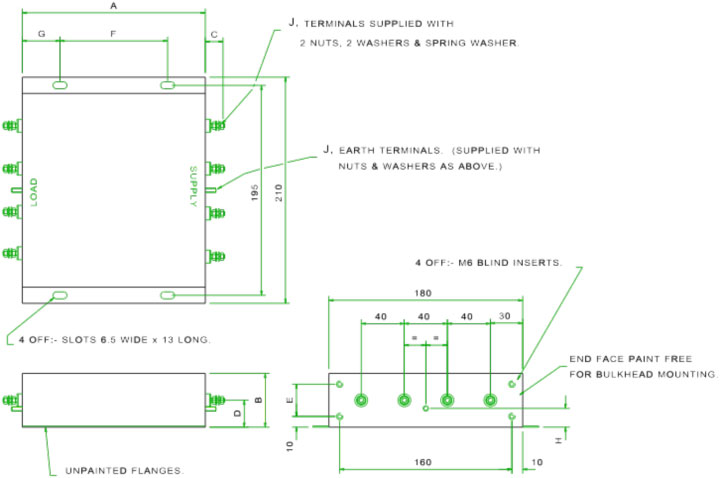 Part Number
A
B
C
D
E
F
G
H
J
DS29012
170
50
18
25
30
100
35
17.5
M4
DS29013
170
50
18
25
30
100
35
17.5
M4
DS29014
170
75
18
37.5
55
100
35
25
M4
DS29015
220
85
32
42.5
65
120
50
25
M6
DS29016
300
90
32
45
70
200
50
25
M6
INSTALLATION
The chassis and/or bulkhead should be a flat clean paint-free metal surface to provide a good low impedance earth bond. Recommended thread tightening torques: M4: 1.2 N-m M6: 2.5 N-m
SAFETY
These filters must be solidly and permanently earthed via the chassis mounting, the bulkhead mounting, or via the earth screw provided. Terminals must be suitably enclosed by the user. These filters are fitted with discharge resistors, but the user must still ensure that the capacitors are safely discharged prior to touching terminals.