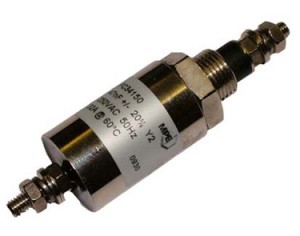 AC Class Y2
Please enter your email address below to download.
DESCRIPTION
A range of ac mains feedthrough filters designed to meet the very stringent safety requirements of EN133200. Capacitors comply with class Y2 rating including the 5000V pulse test. Suitable for all high performance applications requiring high reliability coupled with good high frequency performance such as mains power supplies
for servers, base stations, and switches.
FEATURES
250V ac rating
10A – 300A current ratings
Class Y2 capacitors
5000V pulse withstand
Designed in accordance with EN60950
RoHS compliant
RATINGS AND CHARACTERISTICS
Rated Voltage

250V 50/60Hz

Test Voltage

5000V dc 2 seconds

Capacitor Class (EN132400)

Y2

Pulse Test (EN132400)

5000V peak

Insulation Resistance (within 1 minute)

For C < 0.33μF, R > 15000MΩ
For C > 0.33μF, RC < 5000s (MΩ.μF)

Ambient Temperature Range

-40ºC to +60ºC (+40ºC for 250A & 300A units)

Category Temperature Range

-40ºC to +85ºC

Climatic Category

40/85/21

MTBF

Typically >5million hours

Insulating materials flammability rating

UL94 V-0
PRODUCT RANGE
Part Number
Current Rating IR (A) @60ºC*
Capacitance Value (nF ±20%)
Inductance (nH)
Maximum Leakage Current (mA)
DC Resistance (mΩ)
Typical Insertion Loss (dB) in 50 Ω system with/without load
10 kHz
30 kHz
100 kHz
300 kHz
1 MHz
10 MHz
100 MHz
1 GHz

Standard Performance Range

DS34200
10
2 x 4.7
70
0.9
6
–
–
–
–
4
18
80
100
DS34201
16
2 x 10
70
1.9
4
–
–
2
4
10
22
65
100
DS34202
32
2 x 10
70
1.9
4
–
–
2
4
10
22
65
100
DS34203
63
2 x 47
80
8.9
3
–
–
6
11
21
50
85
100
DS34204
100
 2 x 100
90
19
2
–
–
2
10
18
27
100
100
DS34205
200
2 x 100
120
19
1
–
2
10
18
27
60
100
100
DS34222
250
2 x 100
160
19
<1
–
2
10
18
27
60
100
100
DS34226
300
2 x 100
160
19
<1
–
2
10
18
27
60
100
100

High Performance Range

DS34206
10
2 x 10
140
1.9
7
–
–
2
3
10
28
65
100
DS34207
16
2 x 22
170
4.2
4
–
–
3
7
15
40
72
100
DS34208
32
2 x 22
170
4.2
4
–
–
3
7
15
40
72
100
DS34209
63
2 x 150
180
29
3
3
8
15
21
28
72
100
100
DS34210
100
2 x 470
240
89
2
7
14
22
30
40
80
100
100
DS34211
200
2 x 470
330
89
1
7
15
24
31
44
80
100
100
DS34224
250
2 x 470
330
89
<1
7
15
24
31
44
80
100
100
DS34228
300
2 x 470
330
89
<1
7
15
24
31
44
80
100
100

Extended Performance Range

DS34212
10
2 x 47
210
8.9
9
–
–
5
12
21
60
90
100
DS34213
16
2 x 100
250
19
6
2
4
10
17
24
75
90
100
DS34214
32
2 x 100
250
19
6
2
4
10
17
24
75
90
100
DS34215
63
2 x 470
330
89
3
8
15
24
32
40
65
100
100
DS34216
100
2 x 1000
330
188
2
12
20
29
33
56
80
100
100
DS34217
200
2 x 1000
330
188
1
12
20
29
33
56
80
100
100
DS34225
250
2 x 1000
330
188
<1
12
20
29
33
56
80
100
100
DS34229
300
2 x 1000
330
188
<1
12
20
29
33
56
80
100
100
* 50ºC for 200A filters, 40ºC for 250A and 300A filters
Current derating between 60°C and 85°C: For temperature, θ Iθ = IR
except for 200A filters between 50°C and 85°C: Iθ = IR * 50ºC for 200A filters, 40ºC for 250A and 300A filters
DIMENSIONS AND MECHANICAL DETAILS
Part Number
Weight (g)
D ± 0.5
L ±1
A ±2
B ±1
C
E ±2
T
Torque on T (N-m)
S
Torque on S (N-m)
DS34200
20
57
98
12
17
16
M12 x 1
4
M3
0.5
80
DS34201
20
61
106
12
17
18
M12 X 1
4
M4
1.2
90
DS34202
20
61
106
12
17
18
M12 X 1
4
M4
1.2
90
DS34203
25
94
160
14
22
26
M16 X 1
7
M6
2.5
200
DS34204
32
104
184
16
27
32
M20 X 1
10
M8
5
290
DS34205
38
112
209
19
27
40
M24 X 1
14
M10
8
460
DS34222
54
93
200
19
40
46
M32 X 1.5
24
M12
11
1020
DS34226
54
93
200
19
40
46
M32 X 1.5
24
M16
20
1250
DS34206
20
66
107
12
17
16
M12 x 1
4
M3
0.5
90
DS34207
25
69
116
14
22
18
M16 X 1
7
M4
1.2
140
DS34208
25
69
116
14
22
18
M16 X 1
7
M4
1.2
140
DS34209
32
105
173
16
27
26
M20 X 1
10
M6
2.5
280
DS34210
38
145
228
19
27
32
M24 X 1
14
M8
5
600
DS34211
54
146
243
19
40
40
M27 X 1.5
16
M10
8
1350
DS34224
54
160
267
19
40
46
M32 X 1.5
24
M12
11
1480
DS34228
54
160
267
19
40
46
M32 X 1.5
24
M16
20
1750
DS34212
20
99
140
12
17
16
M12 X 1
4
M3
0.5
130
Ds34213
25
101
148
14
22
18
M16 X 1
7
M4
1.2
200
DS34214
25
101
148
14
22
18
M16 X 1
7
M4
1.2
200
DS34215
54
118
189
19
40
26
M27 X 1.5
16
M6
2.5
1050
DS34216
54
144
227
19
40
32
M27 X 1.5
16
M8
5
1300
DS34217
54
146
243
19
40
40
M27 X 1.5
16
M10
8
1350
DS34225
54
160
267
19
40
46
M32 X 1.5
24
M12
11
1450
DS34229
54
160
267
19
40
46
M32 X 1.5
24
M16
20
1820