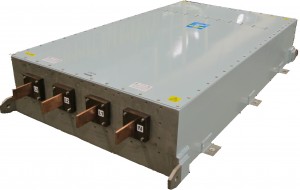 Very High Current EMC Filter Range
Please enter your email address below to download.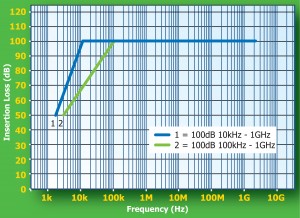 This range of filters has been developed for use on very high current three phase and neutral mains supplies. All filters employ MPE's proprietary low leakage filter design incorporating current compensating inductors to provide very low heat dissipation and hence running costs.
Two performance categories are offered both providing full insertion loss with or without load. These filters are ideal for use in EMP protection systems and in TEMPEST applications.
Customised terminal chambers can be supplied to interface to individual installations.
All types are available with transient suppressors fitted to the input terminal busbars.
All MPE installation filters are tested using the test methods defined within the following standards and meet or exceed the relevant performance and/or safety criteria defined within these standards:
Mil-F-15733
Mil-Std-220C
CISPR17:2011/BS EN 55017:2011
UL1283
LVD 2014/35/EU
GENERAL SPECIFICATIONS
Rated Voltage

250/440V a.c. 50/60Hz

Rated Current

As tabulated

Insertion Loss

Standard performance – 100dB 100kHz – 1GHz
Extended performance – 100dB 10kHz – 1GHz

Maximum Temperature Rise on Full Load

16°C

Operating Temperature Range on Full Load

-25°C to +50°C

Maximum Full Load Heat Dissipation

As tabulated

Maximum Volt Drop per line at Full Load d.c. Current

As tabulated

Discharge time to below 34V

30s maximum

Maximum Continuous Earth Leakage

Current (per Neutral-Earth Volt at 50Hz)

250mA

Maximum Overload Current Rating

1.25 times rated current for 15 minutes

Maximum Short Circuit Fault Current Rating

20,000A for 1 second
RANGE AVAILABLE
Current Rating (A)
MPE Part Number
DC Resistance (mΩ)
Volt Drop (mV)
Heat Dissipation (W)
Major Dimensions (mm)
Case Sizes (see table below)
Approx Weight (kg)
A
B
C
Three Phase (N+) Standard Performance
800
DS23973
0.13
100
250
1554
864
285
a
250
800
DS23521
0.13
100
250
1554
864
285
c
250
1200
DS26310
0.07
76
350
1600
1000
300
a
300
1200
DS26311
0.07
76
350
1600
1000
300
c
300
1600
DS26320
0.04
65
400
1800
1000
350
a
350
2400
DS26330
0.03
60
500
2000
1000
400
a
450
Three Phase (N+) Extended Performance
800
DS26307
0.2
150
375
2400
864
285
a
350
800
DS26308
0.2
150
375
2400
864
285
c
350
1200
DS26314
0.1
115
550
2500
1000
300
a
450
1200
DS26315
0.1
115
550
2500
1000
300
c
450
1600
DS26324
0.06
100
600
2900
1000
350
a
550
2400
DS26334
0.04
90
750
4100
1200
450
a
650
Note: Extended performance filters are supplied as two interlocking parts for ease of handling and installation.
Note: "C" case styles are not offered for 1600A and 2400A filters as it is more practical to use a filter with case style "A" and penetrate the shield via the terminal enclosure.
TRANSIENT SUPPRESSION
All types can be supplied with integral transient suppression fitted between each input terminal and earth.
Varistor rating : 2750V a.c. 360 Joules
Other varistor ratings can also be supplied.
To specify the transient suppressed version, suffix V is added to the filter part number (see ordering code).
TYPICAL INSTALLATION DETAILS
After mounting, for safety and for shielding purposes the filter terminals must be enclosed by screened covers. Custom terminal chambers and mounting frames can be supplied if required.
These filters have integral blind inserts to facilitate mounting and screening of terminal enclosures. They must not be used to support the weight of either the filter or the terminal enclosure.
Because of the very high current rating of these filters, it is important that all conductors pass through a common cable entry point in the shield to avoid eddy current heating effects.
ORDERING CODE
DS XXXXX / X / X e.g. DS23973CV
Filter Part Number
Suffix C for standard cable entry
For other cable entries, see Installation Details page
Add suffix V for transient suppressed filter
STANDARD PERFORMANCE FILTERS
Transportation holes may be used for connection of a separate safety earth, if required.
EXTENDED PERFORMANCE FILTERS
Note: Extended performance filters are supplied as two interlocking parts for ease of handling and installation. An interface gasket is supplied to join the two sections.
TERMINAL DETAILS
DIMENSIONS
Filter Current Rating (A)
Dimensions of Standard Performance Filters (mm)
A
B
C
D
E
F
G
H
I
K
M
N
R
800
1554
864
285
180
964
920
530
247
125
1420
162
180
125
1200
1600
1000
300
185
1100
1056
600
200
155
1450
125
250
155
1600
1800
1000
350
212
1100
1056
700
200
200
–
125
250
–
2400
2000
1000
400
230
1112
1056
800
200
200
–
125
250
–
Filter Current Rating (A)
Dimensions of Extended Performance Filters (mm) (Where Different From Above)
A
L
S
T
U
800
2400
846
442
450
2265
1200
2500
900
447
428
2350
1600
2900
1100
550
478
–
2400
4100
1500
900
600
–
| Filter Current Rating | Busbar Size (mm) |
| --- | --- |
| 800 | 50 x 8 |
| 1200 | 80 x 10 |
| 1600 | 125 x 10 |
| 2400 | Double bars each 127 x 16 with 10mm separation |