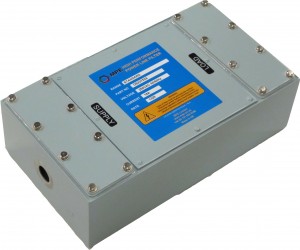 Two Line DC Filter Range
Please enter your email address below to download.
These two line d.c. power line filters feature the full benefits of using current compensating inductors. They are housed in rectangular enclosures and are designed for mounting on a bulkhead. They are suitable for all voltages up to 250V d.c.
To achieve the full benefits of the high performance filter design, it is important that the load current returns through the filter.
All MPE installation filters are tested using the test methods defined within the following standards and meet or exceed the relevant performance and/or safety criteria defined within these standards:
Mil-F-15733
Mil-Std-220C
CISPR17:2011/BS EN 55017:2011
UL1283
LVD 2014/35/EU
GENERAL SPECIFICATIONS
Rated Voltage

250V d.c. (also suitable for up to 100V a.c. 50Hz)

Rated Current

As tabulated

Insertion Loss

100dB from 10kHz to 10GHz

Maximum Temperature Rise on Full Load

25°C

Operating Temperature Range on Full Load

-45°C to +50°C

Maximum Full Load Heat Dissipation

As tabulated

Maximum Volt Drop per line at Full Load d.c. Current

As tabulated

Discharge time to below 34V

60s maximum
RANGE AVAILABLE
Current Rating (A)
MPE Part Number
Performance Curve
Volt Drop (mV)
Heat Dissipation (W)
Major Dimensions (mm)
Case Size (see Installation Details Page Installation Details)
Approx Weight (kg)
A
B
C
6
DS23870
1
500
5
310
175
90
a
8
10
DS23871
1
500
10
310
175
90
a
8
32
DS23872
1
500
20
550
205
95
e
16
63
DS23873
1
500
45
550
205
105
f
20
100
DS23874
1
500
60
640
205
120
i
25
200
DS23875
1
500
110
660
475
135
u
60
TRANSIENT SUPPRESSION
All types can be supplied with integral transient suppression fitted between each input terminal and earth.
Varistor rating : 330V d.c. 130 Joules (10/1000µs)
Other varistor ratings can also be supplied. To specify the transient suppressed version, suffix V is added to the filter part number (see ordering code).
TYPICAL INSTALLATION DETAILS
The standard cable entry consists of an end conduit entry hole on the filter input (supply) side and a base conduit exit hole on the output (load) side.
Filters can be supplied with other cable entry positions if required upon request. Please refer to Installation Details page.
To facilitate installation of these filters, separate fixing kits are available to suit bulkhead panel thicknesses up to 20mm. Please refer to fixing kits product page.
ORDERING CODE
DS XXXXX / X / X e.g. DS23870CV
Filter Part Number
Suffix C for standard cable entry
For other cable entries, see Installation Details page
Add suffix V for transient suppressed filter