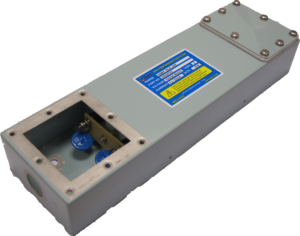 Telephone Line HEMP & IEMI Filter Range
Please enter your email address below to download.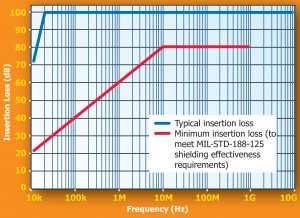 DESCRIPTION
A range of HEMP protection filters for telephone lines for use on HEMP protected installations meeting E1 (short pulse) pci requirements of MIL-STD -188-125-1 & -2. All lines are individually filtered and feature inductive input to offer both good continuous wave EMC performance and superior transient handling performance. All lines feature high-energy varistor transient suppressors at the input end.
All MPE HEMP filters are tested using the test methods defined within the following standards and meet or exceed the relevant performance and/or safety criteria defined within these standards:
Mil-Std-188-125
Mil-F-15733
Mil-Std-220C
CISPR17:2011/BS EN 55017:2011
UL1283
LVD 2014/35/EU
FEATURES
Use on 300Ω/600Ω analogue telephone circuits
Circuits supplied as high symmetry matched pairs
RATINGS & CHARACTERISTICS
Rated Voltage

95Vac / 125Vdc

Test Voltage

1250Vdc each line to case(Prior to fitting transient suppressors)

Rated Current

125mA

Insulation Resistance

>100MΩ (Prior to fitting transient suppressors)

DC Resistance

9Ω

Impedance line-earth

300Ω

Impedance line-line

600Ω

Full Load Operating Temperature Range

-40ºC to +50ºC

Peak Surge Current

6.5kA (8/20μs)
INSERTION LOSS PERFORMANCE
Typical insertion loss In 50Ω system with / without load
Frequency
10kHz
100kHz
1MHz
10MHz
100MHz
1GHz
Insertion loss (50Ω)
70dB
100dB
100dB
100dB
100dB
100dB
100dB insertion loss performance
100dB from 20kHz – >1GHz
Pass Band (300Ω)
0 – 4kHz
TRANSIENT SUPPRESSION PERFORMANCE
MIL STD 188-125-1 acceptance test, short pulse current injection, wave shape 20/500ns
Input pulse amplitude
250A
500A
1000A
1800A
2500A
MIL-STD-188-125 residual requirement
<0.1A
<0.1A
<0.1A
<0.1A
<0.1A
Typical filter residual let-through
<0.06A
<0.06A
<0.06A
<0.06A
<0.06A
PRODUCT RANGE (E1 Only)
Part Number
No of Lines
Major Dimensions (mm)
Weight Approx (kg)
Length
Width
Depth
DS33570
2
300
90
45
2
DS33571
4
300
175
45
4
DS33572
8
300
340
45
8
DS33573
32
547
200
143
17
DS33575
100
730
600
250
60
* Note: Lines are supplied as matched pairs, hence 1 telephone circuit = 1 matched pair = 2 lines
DIMENSIONS & MECHANICAL DETAILS
No Of Lines
Dimensions (mm)
A
B
C
D
2
90
46
22
45
4
175
100
37.5
87.5
8
340
250
45
170
Case Material

Electroplated steel

Finish

Paint (except base)

Terminals

M3 screw terminals
PRODUCT RANGE (E1 & E2)
Part Number
No of Lines
Major Dimensions (mm)
Weight Approx (kg)
Length
Width
Depth
DS33890
2
345
100
75
3.5
DS33891
4
345
185
75
6
DS33892
8
345
350
75
12
DS33582
16
420
340
75
17
DS33893
40
730
620
250
40
DS33894
60
730
620
250
58
DS33575
100
730
1000
250
90
DIMENSIONS & MECHANICAL DETAILS
No Of Lines
Dimensions (mm)
A
B
C
D
2
100
50
25
50
4
185
135
25
92.5
8
350
250
50
175