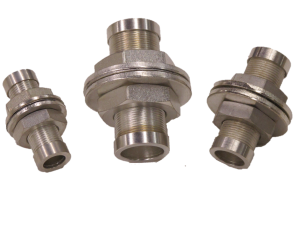 Fixing Kits – Power Line Filters
Please enter your email address below to download.
FIXING KITS
These high quality fixing kits have been designed to provide an RFI tight bulkhead penetration for cables to facilitate fixing of rectangular filters to bulkheads or walls of shielded enclosures. They make it easier to achieve a full RFI seal between filter case and bulkhead up to the highest frequencies, which is not usually achievable with standard electrical conduit fittings due to badly fitting threads.
Each bulkhead fixing kit comprises a penetration tube complete with nuts, heavy duty washers, gaskets, and end bushes for cable protection. The main components are made from electro-tinned steel.
The fixing kit is ordered by specifying the MPE part number in the table below.
Fixing screw sets are also available separately. These are made from electro-tinned steel and comprise a set of four screws each with washers, nuts, and spring washers. They are selected by choosing the thread size appropriate to the filter fixing hole diameter.
BULKHEAD FIXING KITS
| Cable Entry Hole Diameter (mm) | MPE Part Number Bulkhead Thickness up to 20mm |
| --- | --- |
| 16 | 807146 |
| 20 | 807147 |
| 25 | 807148 |
| 32 | 807149 |
| 40 | 807150 |
| 50 | 807151 |
| 63 | 807152 |
| 75 | 807153 |
Fixing Screw Sets
| Fixing Hole Diameter (mm) | Screw Thread Size | MPE Part Number Bulkhead Thickness up to 20mm |
| --- | --- | --- |
| 4.5 | M4 | 806950 |
| 5.5 | M5 | 806951 |
| 7 | M6 | 806952 |
| 9 | M8 | 806953 |
| 11 | M10 | 806954 |
| 13 | M12 | 806955 |
| 17 | M16 | 806956 |
| 21 | M20 | 806957 |