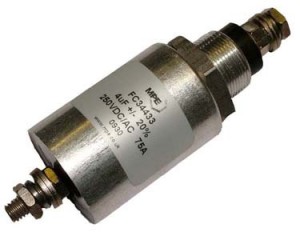 Economy Range Capacitors
Please enter your email address below to download.
DESCRIPTION
A range of low cost feedthrough capacitors designed for high volume applications. Suitable for use on standard dc telecoms voltages of 24VDC and -48Vdc, as well as 250Vac. Features a high test voltage for safety and reliability. Appropriate for use in all high performance applications requiring high reliability coupled with good high frequency performance such as servers, base stations, and switches.
FEATURES
Cost effective aluminium case design
Suitable for multiple dc telecoms voltages
High proof test voltage of 1200Vdc
High capacitance per unit volume
High reliability
Other capacitance values, current ratings, and test voltages readily available
Feedthrough filter versions also available
RoHS compliant
RATINGS & CHARACTERISTICS
Rated Voltage

250V dc / 250V ac 50/60Hz

Test Voltage

1200V dc 2 seconds

Insulation Resistance

>500Ω

Ambient Temperature Range

-40ºC to +50ºC

Category Temperature Range

-40ºC to +85ºC

Climatic Category

40/85/21

MTBF

>10 million hours

Insulating materials flammability rating

UL94 V-0

Case material

Aluminium

Terminals

Nickel plated brass
STANDARD RANGE
Part Number
Current Rating IR (A) @50ºC*
Capacitance Value (μF ±20%)
Major Dimensions (mm)
Diameter D
Length L
Terminal Stud S
Mounting Thread T
DS34430
75
0.5
32
25
M6
M20
DS34431
75
1
32
25
M6
M20
DS34432
75
2
32
34
M6
M20
DS34433
75
4
32
45
M6
M20
Current derating between 50ºC and 85ºC: For temperature, θ Iθ = IR 
INSERTION LOSS
Part Number
Graph
Typical Insertion Loss (dB) in 50Ω system with/without load
10 kHz
30 kHz
100 kHz
300 kHz
1 MHz
10 MHz
100 MHz
1 GHz
DS34430
A
3
9
18
28
38
50
78
90
DS34431
B
5
14
24
34
44
52
84
90
DS34432
C
10
19
29
38
49
55
90
90
DS34433
D
18
28
38
48
58
74
90
90
DIMENSIONS & MECHANICAL DETAILS
Part Number

Dimensions (mm)

Weight (g)

D ± 0.5
L ±1
A ±1
B ±1
C
E ±2
T
Torque on T (N-m)
S
Torque on S (N-m)
DS34430
32
25
79
13
27
23
M20x1
10
M6
2.5
95
DS34431
32
25
79
13
27
23
M20x1
10
M6
2.5
95
DS34432
32
34
88
13
27
23
M20x1
10
M6
2.5
105
DS34433
32
45
99
13
27
23
M20x1
10
M6
2.5
120