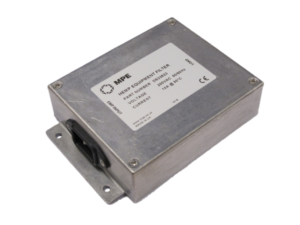 Commercial HEMP Equipment Filter
Please enter your email address below to download.
DESCRIPTION
A 10A HEMP equipment filter meeting the pci requirements of IEC61000-4-24 pulses for severity levels 1 and 2. Both lines feature individual inductive input to offer good continuous wave EMC performance and superior transient handling performance even on supplies with low source impedance. The filter includes HEMP and EMC filtering components thus reducing the need for a seperate EMC input filter for the equipment. This filter is primarily designed to protect individual items of equipment against the E1 pulse as part of a staged protection system as described within the MPE commercial HEMP protection filters brochure.
FEATURES
250V 50/60Hz 10A current rating
120V and 277V versions upon request
Utilise MPE self-healing feedthrough capacitors
Compact size and low weight
Built in transient suppressors
UL94-V0 insulating materials used
Exceeds IEC 950 and UL1283 requirements
Very cost effective
RATINGS & CHARACTERISTICS
| | |
| --- | --- |
| Rated Voltage | 250Vac 50/60Hz (120V and 277V on request) |
| | |
| Test Voltage | 2250Vdc each line to case |
| Discharge Resistors | Fitted internally from each line to case |
| Discharge Time to below 34V | <30s |
| Maximum Temperature Rise on Full Load | 25ºC |
| Full Load Operating Temperature Range | -40ºC to +50ºC |
| Maximum Leakage Current per line at 250Vac 50Hz | See table |
| Peak Surge Current | 15kA (8/20μs) |
| Insertion Loss | See graph within product range brochure |
TRANSIENT SUPPRESSION PERFORMANCE
MIL STD 188-125-1 acceptance test, short pulse current injection, wave shape 20/500ns
Input pulse amplitude
250A
500A
1000A
1800A
2500A
IEC61000-4-24 residual requirement – severity level 1
<353A
<353A
<353A
<353A
<353A
IEC61000-4-24 residual requirement – severity level 2
<50A
<50A
<50A
<50A
<50A
PRODUCT RANGE
Part Number
Current Rating (A) @50ºC
No of Lines
Max Leakage Current per Line (mA)
Max DC Volt Drop per Line (mV)
Major Dimensions (mm)
Approx. Weight

(g)

Length
Width
Depth
DS33823
10
2
3.5
0.15
120
100
35
750
*Current derating between 50ºC and 85ºC Iθ = IR